About the Fleet
With over 30 boats, Fleet 5 is one of the most active one-design classes in Annapolis.  Our purpose is: to promote the continued enjoyment of Harbor 20 Class Yachts in fair, Corinthian, one-design racing, and in day sailing and other social activities; to promote friendship among owners and crews; and to support charities through fundraising and regatta participation.
In the Spring and Summer, our boats are raced in the competitive AYC Wednesday Night Race series, and through the winter months in the AYC Frostbite Series. In addition, the boats and owners participate in the H20 Fleet 5 Spring and Fall Championship Regattas which decide the Class Champion and selection to participate in the annual East-West Challenge Cup.  The H20 East-West Challenge Cup includes sailors from Annapolis (Fleet 5), Hilton Head (Fleet 3), Charlotte Harbor, FL (Fleet 6), Santa Barbara (Fleet 4), Smith Mountain Lake VA (Fleet 7)(our newest fleet) and Newport Beach (Fleet 1) and the location rotates annually from west coast to east coast.  Fleet 5 hosted the 2017 East-West Challenge Cup in September with pictures of the spectacular event available on the Gallery page.  The Fleet also supports the Leukemia Cup, CRAB BYBG Regatta, and the Hospice Cup rounding out an active and challenging annual racing schedule.
Current News  (1 JUN 2019) ​ Team Harbor 20 Dominates On and Off the Water at 27th Annapolis Leukemia Cup Regatta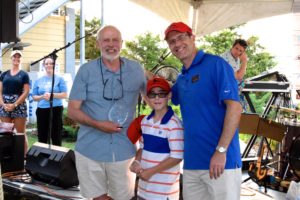 Twenty-three Harbor 20s registered for the 27th Annual Leukemia Cup Regatta and 20 boats started! The event was Chaired by Fleet 5 member and Harbor 20 National Class President Patrick Shannon.
Not only did Fleet 5 have the most one-design boats racing, Team Harbor 20 raised the most money for this important cause with almost $33,000 to date! The fundraising leader for the event was Fleet 5's John Heintz who has raised over $23,000! The top three racers were: 1st - Yellow Jacket (AYC PC Jeff Scholz); 2nd - Meadeor (Rachel and Jim Mead); 3rd - H20 (Garth Hichens).
Check out a great article in the Capital Gazette here.
See pictures from the after race party in our Gallery here.
If you are interested in learning more about Harbor 20 Fleet 5 and how you can get in on the fun this year, please send a note to Communications@Harbor20Annapolis.org Thank you!