About the Fleet
With over 30 boats, Fleet 5 is one of the most active one-design classes in Annapolis.  Our purpose is: to promote the continued enjoyment of Harbor 20 Class Yachts in fair, Corinthian, one-design racing, and in day sailing and other social activities; to promote friendship among owners and crews; and to support charities through fundraising and regatta participation.
In the Spring and Summer, our boats are raced in the competitive AYC Wednesday Night Race series, and through the winter months in the AYC Frostbite Series. In addition, the boats and owners participate in the H20 Fleet 5 Spring and Fall Championship Regattas which decide the Class Champion and selection to participate in the annual East-West Challenge Cup.  The H20 East-West Challenge Cup includes sailors from Annapolis (Fleet 5), Hilton Head (Fleet 3), Charlotte Harbor, FL (Fleet 6), Santa Barbara (Fleet 4), Smith Mountain Lake VA (Fleet 7) (our newest fleet) and Newport Beach (Fleet 1) and the location rotates annually from west coast to east coast.  Fleet 5 hosted the 2017 East-West Challenge Cup in September with pictures of the spectacular event available on the Gallery page.  The Fleet also supports the Leukemia Cup, CRAB BYBG Regatta, and the Hospice Cup rounding out an active and challenging annual racing schedule.
Current News  (14 FEB 2020) -​ Walter Laird Installed as New Fleet Captain at Fleet 5 Annual Meeting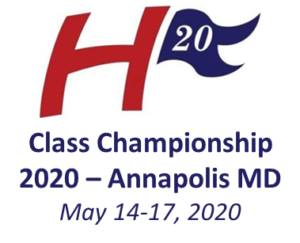 Fleet 5 held its Annual Meeting on Thursday, February 13, at the Annapolis Yacht Club's main clubhouse. The event started with a sail trim seminar from North Sails, the current approved sail maker for Fleet 5, and then a sumptuous buffet dinner before getting down to business.
The highlight of the business meeting was the celebration of retiring Fleet Captain Marino diMarzo and the installation of Walter Laird as our new Fleet Captain for a two-year term.
Garth Hichens provided updates on the Harbor 20 2020 Championship which will be held as a part of the 2020 Helly Hansen NOOD Regattas in Annapolis MD from May 14-17, 2020. There will be three (3) days of racing (May 15, 16, and 17) with the maximum number of races, start time, and end time per day to be specified in the Notice of Race and/or the Sailing Instructions. Thursday, May 14 is a practice day with details to be provided separately.
Get additional information on the Championship here.
Let us know that you are planning to compete in the Championship by completing this form.
If you are interested in learning more about Harbor 20 Fleet 5 and how you can get in on the fun this year, please send a note to Communications@Harbor20Annapolis.org Thank you!